Financial Lines risks and insurances need focus and dialogue. This is exactly why we have created a new platform with the Financial Lines Forum 2019 (FLF) in Zurich on 2 April. It was a great success for everyone involved. As organizers, we are overwhelmed by the market's response and the number of participants: 170 – at the first event. The Financial Lines Forum 2019 is by far the largest Financial Lines conference ever held in Switzerland .
The Financial Lines community was present, including numerous FL experts and personalities from Switzerland, Germany and Austria.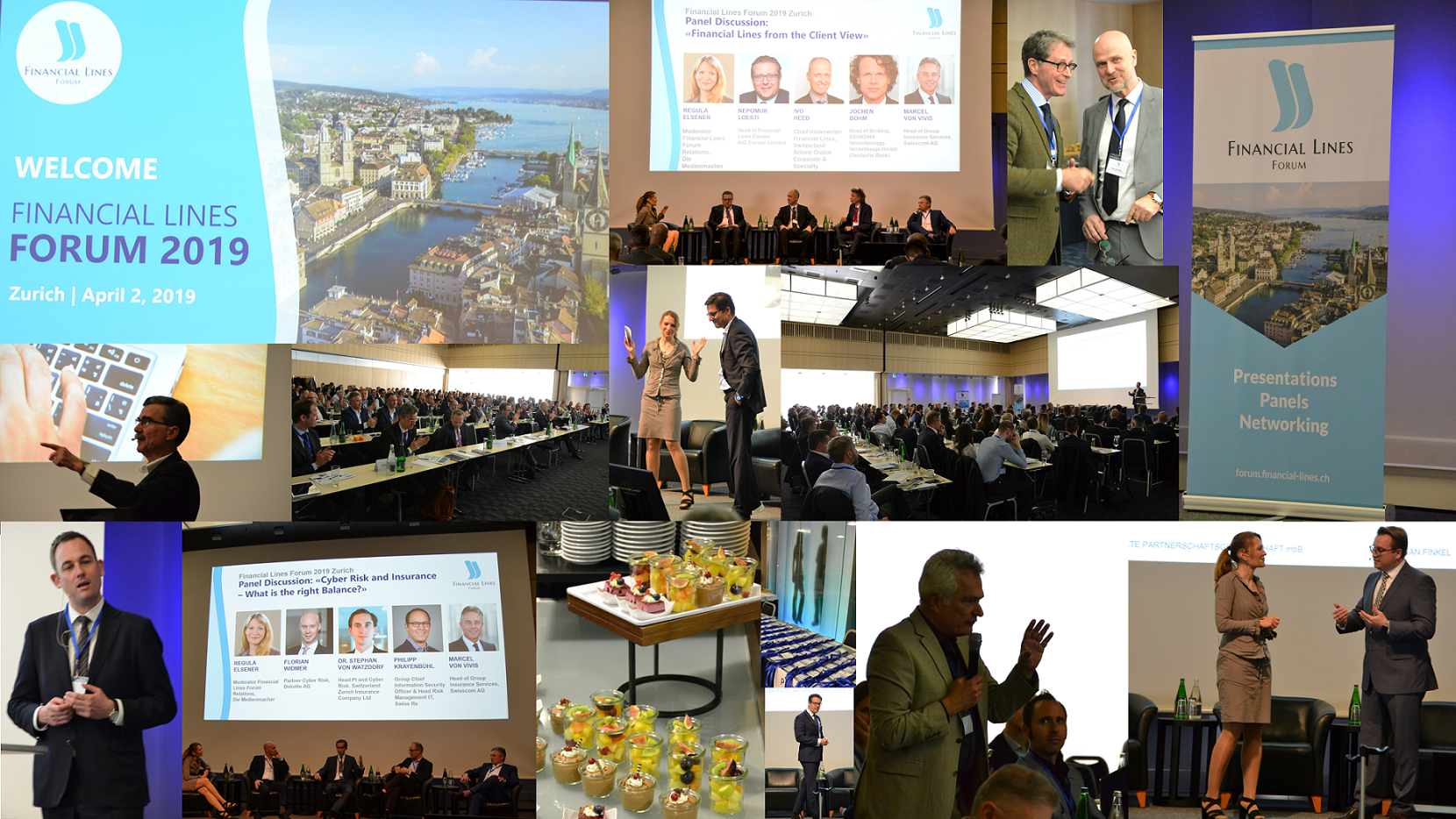 The two focal points set in the areas of Directors' and Officers' liability (D&O) and Cyber risk as well as the format of the short presentations seem to have hit the nerve of the time and the selection of speakers and the associated cross-border format for the German-speaking countries were very well received – when selecting the speakers and panelists, we focused on comparing Swiss and German experts – as an example in the Financial Lines Market Update where a controversial podium discussion between customers and insurers arose. Same approach was pursued with Data and Privacy protection area. We did it in order to mutually benefit from the two countries' different perspectives. Cyber-related topics also met with great interest; most of the participants stayed until the end of the event – something we did not see at many conferences. People liked the organization of the event, the venue which is ideally located close to the airport and the City, as well as the infrastructure and services offered, including food and technical equipment. Read more in the article by our key note speaker Kevin LaCroix "April in Zurich".
With the Financial Lines Forum, we have created a platform for professional and personal exchange in Financial Lines in Switzerland for the German-speaking countries – as a supplement to the conference formats held to date, which usually have either an Anglo-Saxon (London, New York) or a country-specific (Germany) focus. What is new about FLF Zurich is the interplay between what unites and divides the countries. As always with Financial Lines events, the networking aspect is an important one. Here the FLF has also set standards.
The success of the Financial Lines Forum 2019 shows that there is great interest in FL topics. We will organize the FLF annually at the end of March / beginning of April – the next conference will take place on 25 March 2020.